Happy Monday Folks,
Last Sunday, my mum, dad and I, attended an open air theatre show in the most beautiful surroundings of Hilton Park.
Hilton Park is Located in Clones, County Monaghan. Hilton is one of Ireland's great surviving houses. Located less than two hours' drive from both Dublin and Belfast amidst the rolling hills of the Monaghan/ Fermanagh border and is majestically set among 600 acres of heritage woodlands, gardens and lakes far from the hustle and bustle of everyday life.
I am incredibly lucky in that this stunning authentic country house is only a stone throw away from me and I spent many days there with my dogs when I was younger walking through the mature woodlands and lakes.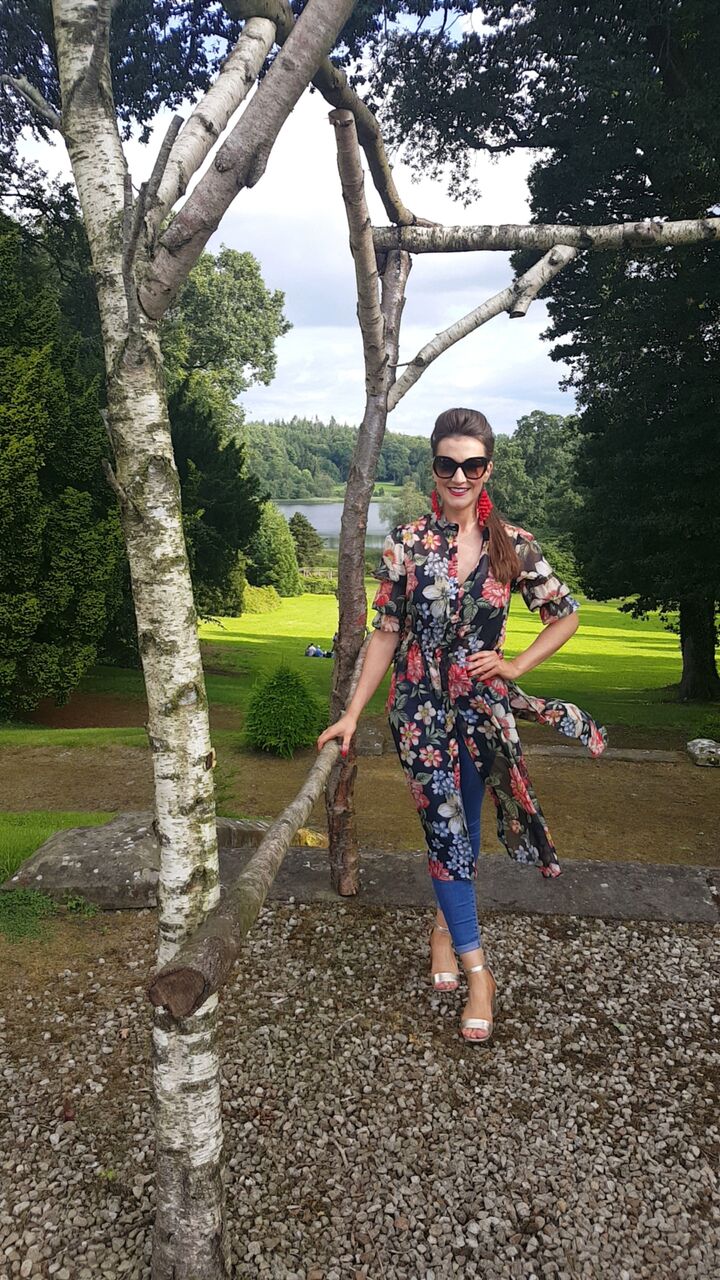 However this time I was here for a completely different reason. Hilton Park in collaboration with Chapterhouse Theatre Company came together and decided to organise an open air theatre show – Pride & Prejudice. It promised to be one of the most enchanting and unmissable events of the summer and we were not disappointed!
We took a step back in time with Chapterhouse Theatre Company to meet Elizabeth Bennet, Jane Austen's most loveable heroine. Brought to life by award winning writer Laura Tuner. It was most definitely a splendid evening and particularly nice way to spend a summers evening.
Gates opened at 6pm and the performance started at 7pm, this meant we had time to stroll around the spectacular gardens while then enjoying a yummy prosecco picnic! We were also so unbelievably fortunate with the weather, it was a balmy summers evening!
For this particular evening of entertainment I opted for a bright summery floral shirt from Zara
(Similar here
)&(
here)
 teamed with some skinny jeans from Topshop (
Here
) and gold sandals which I picked up in Topshop last summer. I get so much wear out of these sandals which is simply down to the small chunky heels, making them incredibly comfortable to wear. I finished the look with statement red tassel earrings (
Similar here
) and pop of red on the lips to tie the entire look together!
Hilton Park can also be booked for weddings and parties and if you want a special treat you can also choose to stay over in this historic luxury country house and stately home for a few nights in one of their six individually decorated bedrooms! It's on my bucket list!
Check it out (
here
) for more details
Rebecca Rose Xx
Check out (Here) for moreebecca Rose Xx